Bachelorette Fantasy League Episode 8 Predictions – Hometowns
Bachelorette Fantasy League Episode 8 Predictions – Hometowns
In case you've been trying to decide on a favorite dinosaur, ABC is hosting a weekly Bachelorette Fantasy League, where you can try to best your friends and neighbors each week by guessing what kind of weird activity Dean's dad makes Rachel participate in. The Fantazie Suite has a group you can join here, and every week we'll be helping you make your choices.
Hometowns are here, Bachelorette Nation! Last week Rachel shed the dead weight of Matt and Adam, narrowing her harem down to the four guys we've known to be the favorites from pretty much week two. It seems like the drama will only increase from here, so let's look at what TV Guide says is in store for this week:
"Rachel returns to the U.S. and goes on four hometown dates where she meets the parents of the final four bachelors. After the revealing visits, Rachel realizes she is falling in love with all four men and must make an impossible decision to send home someone she can't imagine living without."
It's unlike TV Guide to be so stingy with the answers; we'll just have to guess more than usual. Here goes nothing!
Real Bets Provided by ABC:
Rachel and Bryan compete against professionals in which game while in Miami, FL? Dominoes, Chess, Checkers, Poker
Analysis: There is a place in Miami literally called "Domino Park". Well technically, it's called Maximo Gomez Park, but it's famous for its dominoes, something beloved by Miami's Cuban population. It's the kind of "local flavor" that the Bachelorette loves to show on a hometown date.a Florida Heritage site in Little Havana. Here's a mosaic near the park:
And ABC tweeted out this photo on Saturday afternoon: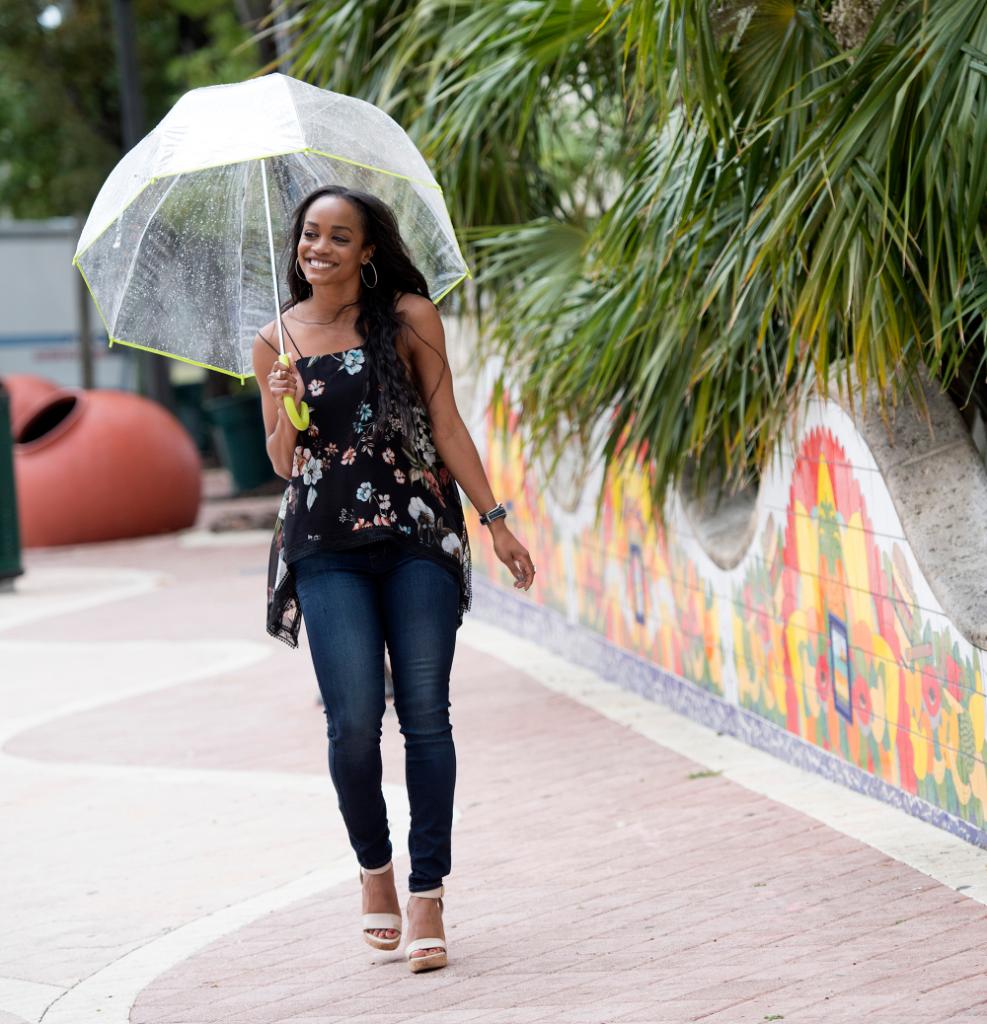 Rachel's definitely visiting Maximo Gomez Park.
Bet: Dominoes. Bryan doesn't strike us as a big chess player anyway.
At the farmers' market in Madison, WI, Peter and Rachel pick out which romantic plant? Roses, Orchids, Bleeding hearts, Violas
Analysis: Again, no giveaways in the previews yet, but a rose seems too obvious, a bleeding heart too political, and violas too obscure. Also, the use of the word plant is interesting: roses are typically referred to as bushes and violas are a more singular flower. An orchid, though, is definitely a plant. And its romantic symbolism (and Freudian association) is well-established. It just seems like the right fit here.
Bet: Orchids
While showing Rachel around Baltimore, MD, Eric challenges her in which game? Foosball, Basketball, Handball, Ping pong
Analysis: It's got to be basketball, right?
Good.
Bet: Basketball. Which Rachel apparently can play in heels. Good for her!
During Dean's date in Aspen, CO, what relaxing activity do he and Rachel partake in with his family? Chanting meditation, Group yoga, Tai chi, Gong meditation
Analysis: Poor Dean nearly threw his chances last week just so that he wouldn't have to take Rachel home to meet his "eccentric" father. And it looks like Dean's dad, a yogi, will be turning his eccentricity levels up to 11 this week. The man appears to have a meditation room in his house:
And yes, that's a gong in the background, and yes, Dean's dad will be striking it:
We feel bad that Dean's going to have to go through this on national TV.
Bet: Gong meditation.
TRUE OR FALSE: A bachelor will take a dip in a hot tub with Rachel in this episode.
Analysis: Hometown dates are always very #RightReasons focused. Unless Dean's dad forces us into some incredibly awkward territory, there won't be a hot tub this week.
Bet: FALSE
Which of the final four bachelors does Rachel send home after hometowns this week?
Analysis: It seems clear that Rachel likes Peter, Bryan, Dean, and Eric, in that order, but much like last week, we've been promised a whole lot of crying this week that could shake up her feelings. It's also hard to tell from the "This week on" video who's getting cut. We see Peter in a vineyard and talking to a monk in a church…
Dean on a picnic…
Eric climbing some steps…
and Bryan in a field watching the sunset.
Those are all dates that look like they're taking place in Spain, not the guys' respective hometowns. Rachel also said on the ESPYs red carpet this week that all of the guys get to meet her family, so the fact that the video only shows Bryan talking to her family doesn't help us at all.
So we're going to go with our gut and say that Rachel drops Eric. He seemed to be Rachel's fourth choice coming into the week, why shouldn't he be the fourth choice going out?
Bet: Eric, but we don't feel great about this one.
**Update** Upon further review, Rachel and Dean are in the exact same outfits in that picnic and at Dean's dad's house. A trip to Spain might not be in his future!!!
Fake, but fun bets:
Whose family disapproves of Rachel? Bryan's, Dean's, Eric's, Peter's
Analysis: Watching the videos, Peter's mom takes to Rachel just fine and Eric's family does some couch dancing with her, so that's safe. The drama in Aspen looks to have nothing at all to do with Rachel and everything to do with Dean's broken relationship with his dad. But check out this video from Twitter.
We already know that Bryan broke up with his last girlfriend because she couldn't "meet his mom halfway," and there she is, telling Rachel she'll kill her? You get away from our Rachel, Bryan's mom!
Bet: Bryan's
What the heck was Peter drinking last week? cola, wine, a mixed drink, something else entirely
Analysis: We've been unable to get this image out of our heads since last Monday:
Peter was clearly drinking something cola-colored, with ice in it, out of a wine glass. Which is strange enough, but after taking a sip, he said, "That's really good, too." So that can't be just a standard whiskey and Coke, right? Or your run-of-the-mill soft drink? What the heck was Peter drinking last week?
Bet: ?????
No seriously, what's your favorite dinosaur? Triceratops, T-Rex, Apatosaurus, Velociraptor
Analysis: Rachel knocked Dean last week when she asked him to get serious and he hit her with this question, but if you don't have a deeply-thought out answer for this question, we at the Fantazie Suite have no time for you. It's like having a preferred Harry Potter house; if you don't care, then you think it's silly; but if you do care, the future of your relationship rests on your significant other's answer. The big herbivores are boring, and the large carnivores are too bro-y (Dean is definitely a T-rex fan). We always have respect for the mid-sized dinos with cool body armor.
Bet: Triceratops (which is the Ravenclaw of this conversation)
Check out our "Rosé over Roses" t-shirt on Amazon HERE
Catch up with our Episode 7 recap HERE