Bachelorette Fantasy League Episode 10 Predictions – The Men Tell All
Bachelorette Fantasy League Episode 10 Predictions – The Men Tell All
In case you've been waiting all season to air out grievances the public stopped caring about six episodes ago, ABC is hosting a weekly Bachelorette Fantasy League, where you can try to best your friends and neighbors each week by guessing whether Rachel wears her absurdly expensive Breitling watch. The Fantazie Suite has a group you can join here, and every week we'll be helping you make your choices.
It's Men Tell All week, Bachelorette Nation! You know what that means: row upon row of guys you had completely forgotten about, rampant speculation on who will be the next Bachelor, and entirely too much time spent talking about the weird interpersonal issues that came up between Lee and seemingly every person of color who got to spend a night in the Mansion. Let's see what kind of bets we're dealing with for this week…
Real Bets Provided by ABC:
Who is the surprise guest at the Men Tell All? Lexi, DeMario's ex; Ben Higgins; McKenzie, Kenny's daughter; Nick Viall
Analysis: The producers need to make DeMario look good if they're going to show any of the footage on him in Paradise, and his ex would be too much of an unpredictable wild card. She's out. Newly single Ben Higgins has been in internet rumors as a possible next Bachelor contestant (a la Brad Womack), but from what we've heard on his podcast with fellow alum Ashley I, he's been too burned by the process and has no interest in falling in love on a reality show again. Without that, there's no reason to have him back.
The other two options are tempting. We know that Nick is desperate for media attention, and counting him out is never for certain. On the other hand, McKenzie stole the show during the ugly Kenny/Lee fight, and she is all over his social media since Rachel sent him home. Wouldn't it be completely on brand to have Chris Harrison point to her as a plant in the audience right before a commercial break? That's our most likely scenario.
Bet: McKenzie

TRUE OR FALSE: Lee apologizes to Kenny.
Analysis: This stuff again? Look, Lee went on the show to promote his singer-songwriter career. He hasn't gotten stellar press as a result, and might be looking to save some face. This promo involves Lee being yelled at by at least three different people. With all those facts in mind, he'd be crazy to double down on his assholery and refuse to apologize for the way he acted on screen.
Bet: TRUE, but let's agree to wrap the word "apologize" in some super heavy air quotes.
TRUE OR FALSE: Rachel wears the watch she bought with Bryan in Switzerland.
Analysis: As we've discussed before, a watch is a very intimate gift. If she ends up with Peter or Eric, we'd guess that that watch has been quietly placed in a Dallas-area resale shop. If Bryan's the big winner, wearing the watch would be too obvious. Check out this photo evidence:
When taking Bryan to meet her folks, she clearly wore the watch on her left arm.
Her left arm looks to be unencumbered.
Bet: FALSE. Breitling should have stipulated more screentime for the timepieces in the executional mandatories section of the activation brief.
TRUE OR FALSE: Adam Jr. (Adam's dummy) attends the Men Tell All.
Analysis: As if anybody would have forgotten who Adam Jr. was. Of course he's there!
Bet: TRUE. This was a lock as soon as the dummy made it past the limo on night one.
TRUE OR FALSE: Blake E. admits to eating a banana above Whaboom's bed.
Analysis: How many times does Blake have to tell everybody, he's on a ketogenic diet! This helpful website says that someone on that kind of diet would have to limit themselves to a third of a small banana, which isn't intimidating at all. You might as well try to scare someone by standing over their bed eating a handful of chia seeds (which a keto diet would allow).
Bet: FALSE
Which bachelor is the first to hit the couch with Chris Harrison at the Men Tell All
Analysis: Well, you can eliminate anybody who didn't make it past week 1, and the three guys who are still in the running won't be there at all. So that narrows the pack down to… twenty guys? Holy crap, that's too many guys.
Let's get more conceptual. The cadence of the Men Tell All episode is as follows: Start off light, with Harrison pitching softballs to the guys all at once. Bring up the light controversies. Get a little more serious, then get really serious. Give us a sizzle reel of Paradise so that we can lighten up. Bring out Rachel, and land the episode with a teaser for the finale. The Whaboom/Blake crap can get taken care of without pulling either of them out of the bleachers. The Lee vs. Everyone drama will be the uncomfortable chunk in the middle of the episode. Dean is important enough to get individual couch time with Rachel.
So let's say that the first couch call goes to DeMario. He was important enough to build a cliffhanger around early in the season, and again, the producers are going to want to soften his image and try to make everyone forget the cloud hanging over his upcoming Paradise appearance.
Bet: DeMario
Fake, but Fun Bets:
TRUE OR FALSE: Jonathan will tickle Chris Harrison.
Analysis: Remember the Tickle Monster guy? How did he make it to week four?
Bet: TRUE
Who will cry first? Kenny, Milton, Fred
Analysis: Looking over our notes, it's astounding that so many of these guys cried this season. Milton was just crying because he had spent so much on the wardrobe that nobody was going to get to see.
Bet: Kenny's in touch with his emotions.
Which of the guys we've forgotten about will attack someone's motives from their spot on the dais and end up getting more screentime during MTA than they got facetime with Rachel all season?
Analysis: This one has got to be Iggy, right?
Bet: Iggy.
TRUE OR FALSE: It is safe to drink the wine that came from this barrel: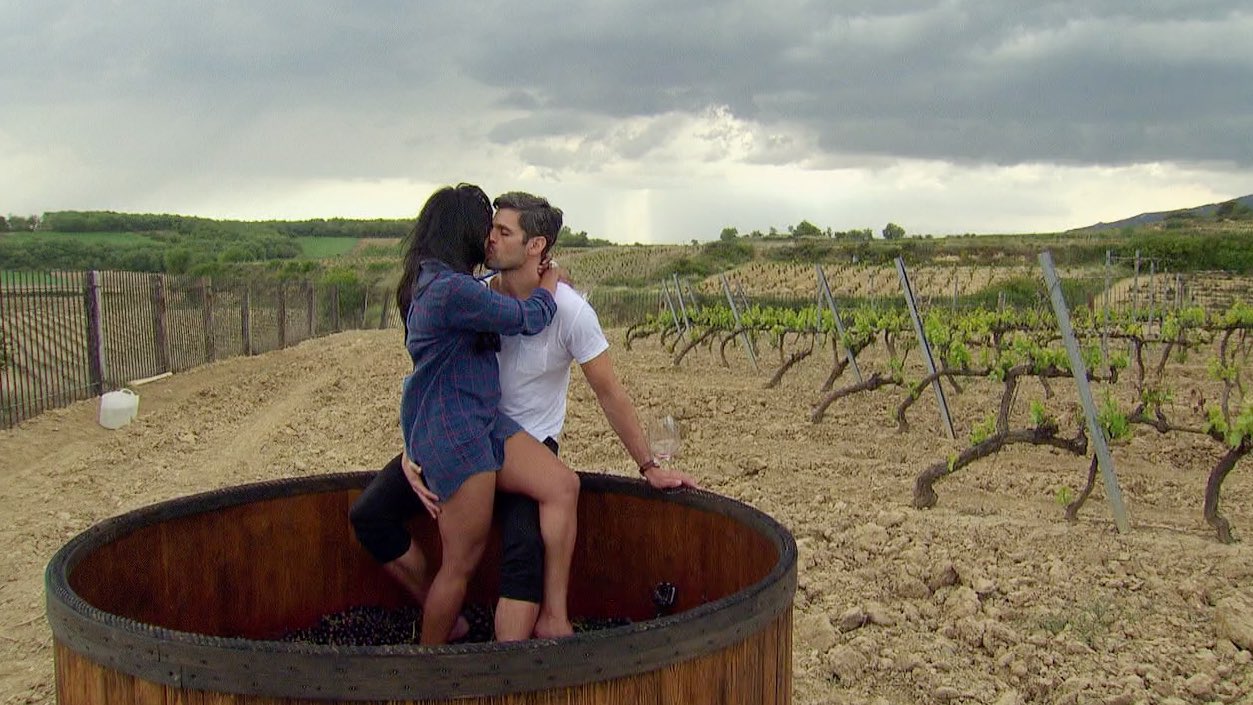 Analysis: Drinking the wine from that barrel will get you pregnant. That's a scientific fact.
Bet: TRUE, but you should be sure to read the label.
Check out our "Rosé over Roses" t-shirt on Amazon HERE
Get caught up on what happened last week in our Episode 9 Recap  HERE